Birthday Nails Ideas:Celebrate your birthday in style with happy birthday nail art designs to make you stand out from the crowd on your special day. These are inspiring ideas for a great birthday party.
Birthdays are the parties we like the most since life is celebrated, the joy of being in the world for another year. We love birthday decorations with garlands and balloons, well-packaged gifts, cakes or sweets filled with candles, and Birthday Wishes, where we can express all our love for that birthday person in writing and our good wishes for this new year that begins.
That is why we propose several painted nail ideas for birthdays that collect all these ideas and turn them into the art of painting nails for special occasions.
I hope you like some ideas for birthday nails. If you give this a go – send me photos of your birthday party nails, and we'll feature them here.
If you want happy birthday nail designs, I love this idea, which says happy birthday. Plus, the birthday candles look so cute!
The colours of this nail design match the birthday cake candles
Nails painted ideas for birthdays with candles
We like cakes full of candles, each one for a year of life. Nothing to put the number! It is much more fun to put many candles and the birthday boy or girl has to blow them all out. As you can see in these nail decorations for birthdays, it is excellent to draw lighted coloured candles through all the nails.
Nails ideas painted for birthdays with cupcakes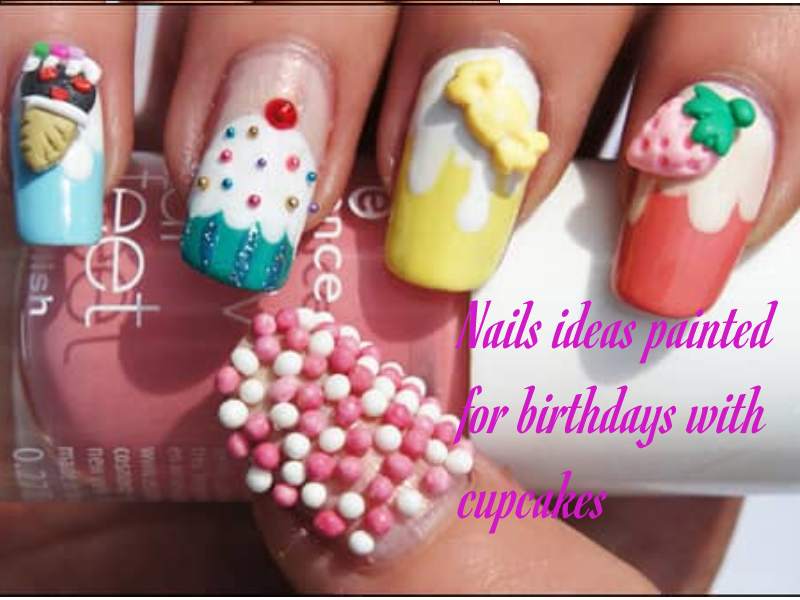 Cupcake or birthday cake? What do you prefer? Both have their charm, no doubt. It is easier to draw nails decorated with cupcakes than with cakes or pastries, as well as it lends itself to designing them with many colours. As you can see, you can draw a cupcake with a candle on each nail or just on a couple. For the rest, choose a bright colour like pink or blue and fill it with glitter or decorations.
You may also be interested in 10 Easter nail decorations step by step
Nails painted for birthdays with balloons
You can't miss balloons on a birthday either. They are also effortless to draw on the nails since you have to make several coloured ovals, a small triangle below and, with black, draw a slight bow and the thread that hangs from them. Undoubtedly, originally painted nails for birthdays that are full of joy and colour.
Nails painted for birthday with confetti
Confetti, paper spirals, noisemakers, hats. All the paraphernalia to decorate the house and make fun and noise are welcome on birthdays, so you won't be out of tune if you wear a nail decoration with coloured confetti for your birthday or any other Male friend or a female friend. Also, they are very easy to draw.
Nails painted for birthdays with garlands
The garlands that hang from the walls are also a beautiful element to decorate a birthday party, especially those that are triangular and coloured; for this reason, these nail decorations for birthdays have been included in various ways, from the most childish to the more modern with certain grunge and vintage air.
Nails painted for birthday with congratulations
Finally, we can also write birthday wishes on the nails, although writing is already somewhat more complicated. We can write "Happy Birthday" + the person's name or "It's your day" accompanied by other decorations that we have seen before, such as balloons, cupcakes and candles.
Elegant coloured nails ideas for birthday
Nails decorated with different solid colours are another excellent idea to combine with your wardrobe if you have to attend a birthday party. These decorations are simple for women who want to have their nails neat but do not want their nails to draw so much attention. Here we leave you some nail designs decorated with plain colours and details that enhance the design.
Elegantly decorated nails with glitter for birthday
Nails decorated with glitter are an excellent option for showing off beautiful nails at a special evening event. Glitter is a perfect idea to highlight your nails and make them attract the attention of everyone who looks at you. The brightness has taken over the wardrobe, the makeup and nails since there are many designs of nail decorations that shine as the protagonist. Glitter nails have the advantage of creating an incredible innovation on your nails that draws attention and allows you not to wear jewellery to highlight your look.
Here we leave you some nail ideas with glitter so you can choose the design you like the most.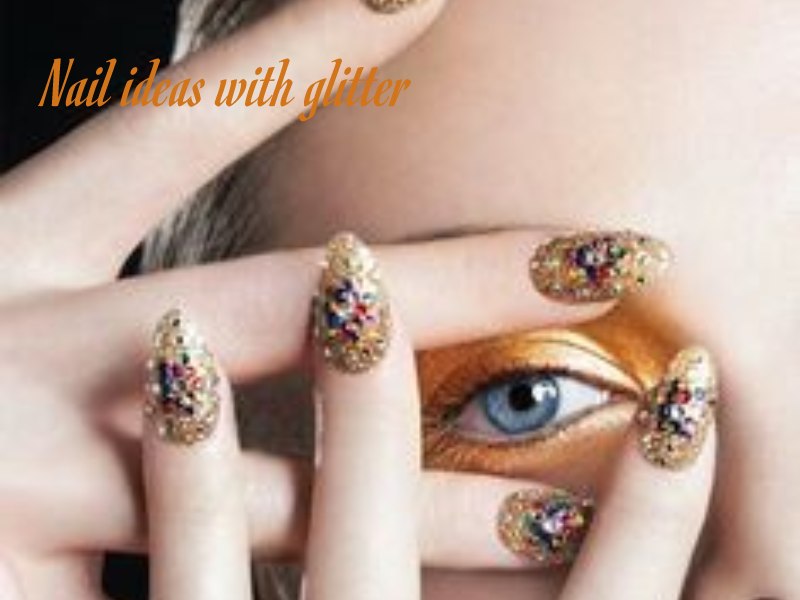 What do you think of these painted nails for birthdays? Which one would you choose? We are left with the ones with balloons and confetti because they are simpler and more original. We hope you liked them and that you are encouraged to decorate your nails with some of these designs.
Also Read: Essentials for Your Meditation Room – Create Your Mediation Room