About Wet n Wild SpongeBob
Wet n Wild SpongeBob in recent years, Wet n Wild has licensed collaborations with PacMan and Sanrio's My Melody and Kuromi. His latest collaboration is with SpongeBob! This one charms me the most because SpongeBob Square Pants is one of my favorite shows, and I grew up watching it. As a kid, I had all that swag, and I still quote the show.
Bring Bikini Bottom into your makeup kit with this latest SpongeBob makeup collection full of F.U.N. This set is packed with different makeup and applicator tools based on your favorite sponge and all his underwater friends. From highlighters to eyeshadow palettes to makeup sponges, this set has everything you need to create any look imaginable.
Wet n Wild starts first and remains a lifelong goal for vibrant and accessible beauty. With over 40 years of cutting-edge, comprehensive innovation, we're your trusted beauty experts, making you look fabulous without breaking the bank. From bright and bold to nuanced and neutral, we set out to spoil you with options while setting the gold standard of accessibility. So let's get a taste of what we offer and let your imagination run wild!
Wet n Wild x SpongeBob Collection Purchase Options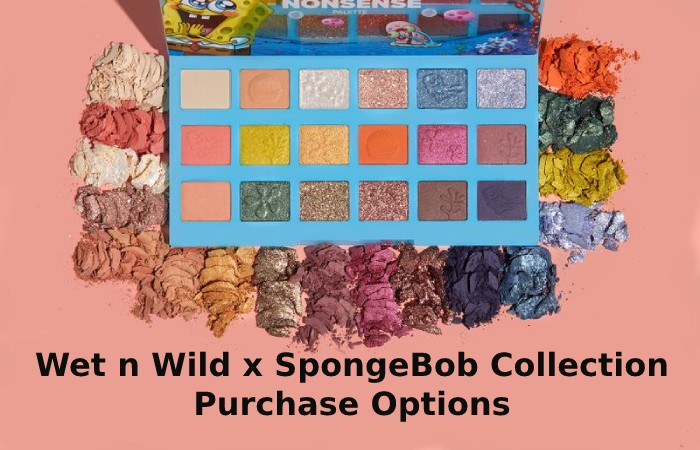 Below are the release dates for the Wet n Wild x SpongeBob Collection:
Walmart (4/10)
Ulta Beauty (4/18 online, 5/2 in stores)
Amazons (4/20)
Walgreens (4/25)
Rite of Aid (4/26),
Honestly, getting this collection is a mess. From Walmart, the products are only available in stores. You must be lucky enough to have a Walmart that sells the products in your area. Unfortunately, they cannot be delivered or collected today on their website.
This collection sells out quickly. Almost everything is gone from the Ulta and Wet n Wild websites, and Walmart stores are being decimated. Amazon hasn't got everything ready yet, although it's past 4/20. I assume the same situation will arise at the other retailers who have not yet released any items at the time of writing this. So act fast if you want something! I'll do my best to provide links for you to shop here, but it isn't easy with quick sales.
You can purchase each item in this collection separately. Unfortunately, total cases are already selling out at Ulta and Wet n Wild, and there's no sign (so far) of the other retailers getting the point.
B.F.F. First Moisturizing + Illuminating Mist
The first article in this Wet n Wild x SpongeBob Collection review is the B.F.F. First moisturizing + illuminating mist. It is a 3-in-1 product used as a primer, setting spray, refresh makeup or bare skin. It has a beautiful scent that reminds me of a bubble bath, consistent with the other bouquets and soaps in this collection. You must shake this product very well. It's one of those sprays where all the glitter settles to the bottom, leaving you with a clear liquid. As soon as you shake it, it turns metallic pink and swirls.
I've used it as a foundation, and it leaves the skin a bit sticky for makeup application, but it doesn't do anything for the pores. I don't understand how a spray can fill pores (so I'm giving it one star). From afar, the skin looks dewy, but up close, you can see the subtle shimmer and sparkle on the skin. Makeup is usually applied over it. I can't say it makes makeup last longer. Shimmer subtly shimmers through foundation and powder. As I slowly turn my face to the light, I can gently see the glow.
The top sprayer is excellent. It's not a fire hose, nor is it the best sprinkler in the world. I have no complaints. This superb spray with Wet n Wilds Photofocus Dewy Foundation or Barefocus Tinted Hydrator!
Claims: This revitalizing spray can prep skin before makeup application, provide refreshing hydration, and illuminate the complexion with light-reflecting, illuminating properties to impart a soft, dewy glow. It Evens out your skin tone, fills pores, and conceals imperfections. In addition, this weightless formula gently moisturizes the skin.
F.U.N. Purifying Fixing Mist
The second is the F.U.N. Purifying fixing mist. Again, I don't see how a spray can seriously refine pores or get the "dirt" out of them, which I don't see with this spray. It has the same lovely scent and superior spray as the B.F.F. spray. I've used it to set my makeup, and it does a good job. However, you are left with the finish of your makeup as it does not provide a finish itself. I see oil production in and around my nose after two hours, so it's not reducing oils. As for brightening, smoothing, and soothing, I recommend applying it to bare skin if you want to see those effects.
Claims: Refine your pores with this site mist that keeps makeup fresh for hours and purifies the skin. It should reduce excess oil and clogs, brighten skin tone, and soothe and smooth skin.
SpongeBob Makeup Sponge
The third is SpongeBob's makeup sponge. I want to take a second and say that the Wet n Wild makeup sponge formula is only of my favorites, so all of these will get the job done. Of course, they stretch when wet and are excellent soft. The three sponges in this gathering are cut into exclusive shapes to help you target specific areas of the face or use them with particular makeup products. The claims explain what the conditions and borders are intended to be used for.
Claims: The two high-precision flat cutting edges are specially designed for fine detail work such as contouring and baking a piece of cake. The rounded side of the sponge is an excellent blending tool, making it easy to create custom colors. Easy, quick, and seamless application of foundation and other wet or dry makeup with smooth, streak-free coverage that minimizes product absorption.
Makeup Sponge Patrick
The fourth is the Patrick cosmetics sponge. I love how they appropriated the time to put on the green pants! It is shaped like a regular sponge. Again, the claims explain the best way to use this sponge, but the pointed end is excellent for use below the eyes and in the nasal cavities.
Claims: The high-precision, tapered tip is designed to make it easier to apply makeup to hard-to-reach areas such as the nose, chin, and below the eyes. The rounded side of the sponge is an excellent blending tool, making it easy to create custom colors.
Squidward Makeup Sponge
The fifth is the Squidward Makeup Sponge, which has the weirdest shape of the bunch. But, once again, the claims explain how best to use it. In general, you most probably will not use these sponges. The reason is that sponges eventually have to be disposed of, and I prefer to keep them in my makeup area.
Claims: Any rounded side of the sponge is an excellent blending tool. The small rounded end is specially designed to reach difficult places.
SpongeBob Flat Kabuki Brush
Next up in this review of the Wet n Wild x SpongeBob collection is the SpongeBob Flat Kabuki Brush. The rectangular shape is quite odd. It might be used to contour cheekbones, but it's too broad for controlled highlighting. I'm afraid I have to disagree with the claims that I would not use this brush for wet products. This brush has a premium feel; like all Wet n Wild brushes, it is very soft. It's disappointing that it can't stand on its own, as the single shape is harder to keep with your brush collection.
Claims: This makeup brush with flat, fluffy bristles is ideal for controlled application and blending of powder. Perfect for contouring and emphasizing, the synthetic fibers are soft and made from the highest quality filaments for better pigment absorption and even color distribution. It can be used with misty or dry products.
Sandy Round Kabuki Brush
Here is the Sandy Round Kabuki Brush. It can stand alone in your vanity. Once again, the quality is there with the bristles. There is too much to use with foundation, but this is ideal for powdering the face.
Claims: The ideal makeup brush for buffing skin and spreading powder makeup evenly. It features soft synthetic fibers from the highest quality filaments for better pigment absorption and color distribution.
Gary the Snail Soap Suds Sponge and Brush Cleanser
Next up is Gary the Snail Soap Sud's Sponge and Brush Cleaner. It has the same bubble bath scent as the facial sprays. While I haven't used this yet, there's no way it won't work. Solid detergents are the only soap I use for sponges so I will use this product. They will not cause cracks or cracks on sponges; the soap is easier to wash off, saving you time. You can also use this creation with brushes, which go well with the following items.
Claims: This easy-to-use cleaner removes product build-up, dirt, and germs to leave tools sparkling clean.
Krabby Patty Sponge and Brush Cleaning Pads
Here are the Krabby Patty sponge and brush cleaning pads. This super cute Krabby Patty approach reveals four pieces you can use to clean brushes and sponges. Just like soap, nothing can go wrong with this product. I love everything from silicone cleaning tools to deep cleaning brushes.
Below is the Purpose of Each Piece:
Top Bun: Deep cleaning
Lettuce: Sponges
Patty: Eye brushes
Bottom bun: face brushes
Claims: These textured packs keep your tools clean by removing makeup build-up, dirt, and oil. Each layer has unique ridges to offer customized cleaning for all your accessories. In addition, this pad made of practical silicone is flexible and easy to clean.
Sponge House Pineapple Case
Next comes the pineapple dry rot box. I have complex plastic cases for Real Techniques and Ecotools sponges, and although I practice them for travel, you are limited to combining them with sponges that match the shape of the case. This sponge bag is universal! The main flaw is that the lid doesn't stay on the topic due to the soft and flexible silicone design. For this reason, I am giving this case one star. I wish the plan were more thought out, while I like the ventilation holes.
Claims: This portable pineapple item not only houses your sponge but also protects it from dirt and grime. The innovative, expressed design allows the makeup sponge to dry appropriately no matter where you are. Made of flexible and durable silicone material, this makeup sponge case provides maximum protection for your makeup sponge.
Spongebob Highlighter
Here is the SpongeBob highlighter. I like to think of this as the essence of SpongeBob SquarePants in highlighter form. Yes, this is a glowing Megaglo powder, and it packs a punch as it should. I'm giving it one star because the intense golden yellow hue doesn't look the best on light/fair skin tones. After all, it's not universally flattering. It's more of a collector's item than anything else.
Claims: As silky as it is buttery soft, this one-of-a-kind highlighter is infused with nylon, giving it its signature texture that melts practically right into the skin. It is also fantastic to mix with other pigments.
Palette of  Nautical Nonsense
The last item in this review of the Wet n Wild x SpongeBob Collection is the Nautical Nonsense Palette. It features 18 matte shades, shimmer, and pressed shimmer. The shadows' names are SpongeBob! While the mats are super smooth and buttery soft, they pack a hefty amount of clout into the pan, and you can see the dust flying onto the application. Shimmer and shine work as usual.
The two pushed glitters (Order Up and Absorb the Love) are a new preparation for Wet n Wild. You might expect your signature sparkle mixed with petroleum jelly, but these are real pressed glitters! The flash is incredibly foiled and vibrant. I applied everything dry for my eyeshadow look, but you'd think I used it wet. You can, of course, apply them wet if you prefer.
Some shades are unsuitable for use in or around the eyes, so always follow package directions. The swatches that appear are a little lackluster, but I can confirm that they're your typical wet and wild eyeshadows. Ultimately, it all comes down to how they are applied to the eye via a sample.
Claims: This kit contains 18 hyperpigmented underwater pigments in a mix of buttery mattes, shimmering shimmers, shimmering satins, and self-adhesive multidimensional shimmers. These ultra-smooth, super-smooth pigments blend easily, allowing you to mix and match palettes and colors easily.
Makeup Look
I end this Wet n Wild x SpongeBob collection review with a complete Wet n Wild makeup look that uses this collection. This look is about consuming excellent and being silly with the featured colors.
Below is the Items Use:
F.F. First moisturizing + illuminating spray
The Photofocus eyeshadow primer
The Photofocus color corrector in beauty
Barefocus Tinted Hydrator tinted coating veil in Fair
Megalast Incognito Full Coverage All Day Concealer in Fair Beige
Photofocus Translucent Loose Setting Powder
Browsessive brow pencil in dark brown
Browsessive brow shaping gel in brown
Coloricon Sunscreen at Sunset Striptease
Color icon Light Wine Blush
Spongebob highlighter
U.N. Purifying fixing mist
Palette of nautical nonsense
Shatterproof, waterproof, liquid eyeliner in Ultra Black
Nyx Glitter Primer**
Loreal Voluminous Foundation**
Big poppa mask in blackest black
Perfect pout Lotion Lip Liner in Never Petal Down
Cloud Pout Marshmallow Lip Mousse in Pour Roughly Sugar On Me
Conclusion
In short, the Wet n Wild x SpongeBob collection is primarily for collectors, as I almost always say with these limited edition collections. Brushes and sponges are displayed in my makeup area, and highlighter isn't easy to carry. I would like to see more makeup in this collection as it is a heavy tool. I can imagine a mini set of nail polish and lip colors. This is an excellent collection for SpongeBob lovers and one that I'm very excited about. After reading these reviews, you can determine what to buy. Unfortunately, it will be complicated to find these products in stock. Until next time, let your true beauty shine.
Also Read: E.L.F Camo CC Cream – SPF 30 A Color Correcting Cream
Also Read: Prince's Hair Harry Styles – Harry's Styles Over The Years Till 2022