About Le Prunier Plum Beauty Oil
Le Prunier Plums Beauty Oil: I don't know if I'm exaggerating, but one product has turned my entire routine and grooming experience upside down in the past few weeks. So far, only one person has managed this: Josh Rosebrook with his Hydrating Accelerator and the Nutrient Day Cream. This time it's an oil I'd like to take to bed like a three-year-old because I adore it so much. We're talking about plum oil, not just anyone, but Le Prunier's Plum Beauty Oil. A treasure in the beauty universe.
Plum Beauty Oil by Le Prunier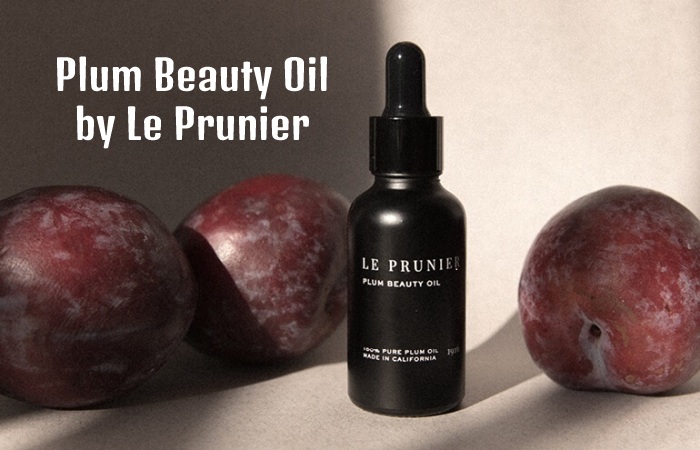 Plum oil is said to be eight times stronger than argan oil and six times more intense than marula oil! The plums lay the foundation for the Californian beauty label Le Prunier. The sisters Jacqueline, Allison, and Elaine Taylor have been running California's largest plum farm in the fourth generation – and have been organic since 1985. Starting a beauty label is the logical next step when you've grown knee-deep in a product and appreciate the benefits of plums as a superfood. Together with two renowned laboratories, they proved in 2014 that the by-product of the plum business, namely the plum stone, has a unique beauty effect. In western Asia, where the plum comes from, it has been called the 'fruit of life for centuries.
What can the Super Booster from the Plum do?
The plum oil softens the skin and is also said to be very efficient at lightening pigment shifts. It also acts as an antioxidant booster for the skin and protects the cells from free radicals: In direct comparison with marula and argan oil, it is even 6 to 8 times more effective. Le Prunier 's Plum Beauty Oils a versatile oil. Depending on my mood, I drip some liquid gold into my daycare or take it pure instead of my night cream. The oil balances the skin, strengthens it, and gives an even complexion.
My skin, which is currently going through a lot, is calmer the next morning. In addition, I have noticed in the past few days that since using the oil – the oil moved in on me about six weeks ago – the fine lines and expression lines have become significantly less, and the skin appears smoother and firmer. This may be due to the patented composition of different plum varieties. Le Prunier Plum Beauty Oil is naturally rich in essential antioxidants, nourishing Omega 6 & 9 fatty acids, and powerful polyphenols, which help protect the skin from free radicals. It also contains pro-vitamin A & E, which support the skin in healing and provide it with sufficient moisture. Sounds good? It is!
And I'll tell you something else: the Plum Beauty Oil is suitable for all skin types, especially skin prone to acne and allergies or susceptible skin. It strengthens your skin protection barrier. What do I particularly like? It contains no essential oils, parabens, sulfates, preservatives, perfume, or other chemicals. It's pure and non-irritating, and that's why I love this product, which has transformed my skincare routine 180 degrees and taken it to a new level. And the scent? It is soft and delicate and has something of noble marzipan. A unique beauty pearl without which I can no longer fall asleep.
All brands and products mentioned in the article were named without payment and solely out of personal conviction. According to the law, brand names and product recommendations are currently to be mark as advertising content. Thanks to you, I received a commission for the affiliate links in this post, which does not affect the sales price. Facial care meets sun protection and the power of plums!
Le Pruner's Plumscreen combines broad spectrum sun protection with the skin-caring properties of their popular Plum Beauty Oil, which is made from 100% the finest and purest plum kernel oil. The antioxidant-rich Plum Super fruit Complex® protects the skin from harmful environmental influences such as pollution, blue light, and UV damage while protecting against DNA-damaging free radicals. This also protects the body's collagen and keeps production intact.
We made it with hydrating Zonaria Tournefortii Extract (a type of seaweed with antioxidant properties), which may reduce the appearance of future wrinkles while hydrating the skin. The silky, transparent formula with non-nano zinc oxide leaves no white residue on the skin! Of course, we have tested this for you – at least on our skin, there is no white veil to be seen! In addition, Plumscreen has been formulate not to damage the coral reefs of our oceans. FDA-registered and ISO-certified laboratories have clinically tested Plumscreen with an SPF 31.
Protection against UVA / UVB / HEV (blue light)
recommended by pediatricians and dermatologists
Noncomedogenic
hypoallergenic
sustainably produced
clinically tested
no whitening
LSF 31
vegan and cruelty-free
contains no essential oils
Product Details
Content: 30ml
Finish: Natural
Product Features: Alcohol-free, Natural, Organic
Skin Type: All skin types, Normal skin
Hair Type: All Hair Types
Fragrance: fruity
Sun Protection Factor: 15
Product Description
Le Prunier Plum Beauty Oil is made from plums grown, harvest, and cold-pressed on Taylor Farm in California. It is six times stronger than marula oil and eight times more potent than argan oil, rich in pro-vitamins A & E, has more omega nine than marula and argan oil, and is high in omega six and polyphenols. Le Prunier Plum Beauty Oil has been shown to significantly lighten skin tone, resulting in a more radiant and even complexion. Additionally, Plum Beauty Oil acts as a natural UV sunscreen booster, helping to reduce the need for chemical agents and strengthening and protecting the skin's barrier from the sun and solar UV rays. Suitable for all skin types, Le Prunier Plum Beauty Oil is fragrance-free, paraben-free, and sulfate-free, USDA certified,
Application
Skin: Apply limited drops to cleansed skin in the morning and evening. Mix an additional drop with your favorite face cream, foundation, or body lotion to increase the effect. Hair: Use daily after shampooing or conditioning. Apply oil to the ends of damp hair to protect against damage from blow dryer heat. Once hair is dry, apply straight to the ends to soften and smooth.
Conclusion
Our Plum Beauty Oil is the original multi-sensory treat for the face, hands, hair, hair, and body; our Plum Beauty Oil helps brighten, balance, and restore skin while locking in moisture for a soft, youthful glow. This pampering oil is an excellent source of nutritious vitamins and antioxidants made from a branded blend of sustainably grown plum varieties. Influential polyphenols and omega 6 and 9 fatty acids help protect skin from harmful free radicals. While vitamins A and E help heal and hydrate skin. Clean. No essential oils, parabens, sulfates, preservatives, added fragrances, or chemicals.
Also Read: Sustainable Beauty Products Sephora – Clean Beauty Products