infinity hoop
infinity hoop: A well-known TikTok brand, weighted hula hoop, offers a money-back guarantee to consumers who don't reduce their waist circumference by two inches in the first month.
But does the hula hooping with weights cause weight loss? Is it healthier and burns more calories than regular hula hooping? And how do real users rate Infinity Hoop?
In this post, we examine clinical research on weighted hula hooping to see if it promotes weight reduction, evaluate the infinity hoop as a waste of money compared to ordinary hula hooping, and present the facts while providing answers to all these issues and more independent user testimonials for Infinity Hoop.
Does infinity hooping with weights help you lose weight?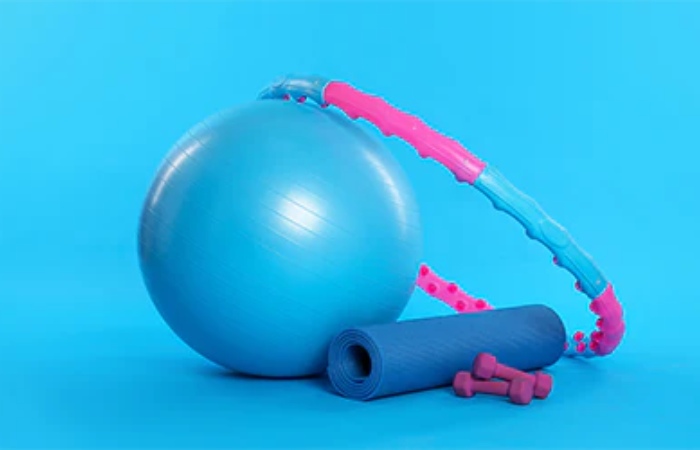 Clinical experiments have examined the impact of weighted hula hooping on weight and health.
A clinical trial published in the journal Obesity Facts compared the effects of weighted hula hooping and walking in overweight people.
After six weeks, weighted hula hoop users shed 1.32 pounds more, a large amount more abdominal fat, and a considerable amount more waist circumference (1.22 inches).
This makes intuitive sense since weighted hula hooping is more intense than walking, but looking at it in a research trial would still be useful.
Another research experiment examining the benefits of weighted hula hooping discovered that the average waist circumference had lowered by 1.34 inches after six weeks. Participants in the research showed no signs of being overweight or obese, nor did their body weight alter.
Clinical research and common sense suggest that weighted hula hooping can help people lose weight. Infinity Hoop's "2 inches in 30 days" measure is unknown to us, and we're treating it as a marketing claim rather than a scientific claim because it's not cited. We can't find any clinical research that suggests it's significant. Waist circumference reduction is estimated in just 30 days.
Real, unsponsored user review of Infinity Hoop
Published by a creator named Chavoz. She does an unboxing and product demo and describes Following 30 days of use, her (poor) outcomes with the Infinity Hoop:
Infinity Hope before and after
Posted by Brittany Berrier Barnes, a TikTok creator:
Infinity Hoop Vs. Regular hula hoop for weight loss
Consumers frequently question whether the Infinity Hoop is pricey: Is it more effective for shedding pounds than a standard hula hoop?
Although no clinical studies are testing this, we believe the Infinity Hoop is more effective for weight loss because it is a weighted hoop. Adding resistance to any exercise will burn calories.
Any exercise may help you lose weight and is cost-free; however, the more intensive the activity, the more weight you can lose in less time.
Numerous reviews have cited the endless hoop's ability to make exercising enjoyable as one of its advantages for weight reduction. The important thing is to identify the form of exercise that each person loves and to engage in that activity consistently. Using the infinity hoop, walking, and jogging are all effective ways to reduce weight. What matters most is consistency.
Our weight loss supplement recommendations
We recommend products and services based on their research support as determined by a review of clinical studies. We receive compensation when readers purchase products or services we recommend.
Some supplements for weight reduction based on food have a lot of scientific backing.
In particular, when coupled with calorie restriction, dietary fibre is a safe and reliable weight reduction supplement that we advise.
A landmark clinical study found that moderate calorie restriction (750 calories per day above baseline) combined with dietary fibre intake (at least 20 grams per day) resulted in an average weight loss of 16.03 pounds over six months. Adding fibre to a moderate-restricted-calorie diet speeds weight loss by 32 pounds per year in overweight people.
We advise Supergut Fiber Mix as a fibre supplement. It is made up entirely of three different flavourless dietary fibres and has no other ingredients. It may be added to meals or beverages. This link will take you to the product page for SuperGut Fiber on the company's website.
Two fibre blends every day, totalling 16 grammes (g) of fibre, are what we advise. The remaining fibre required to meet the 20 g minimum requirement should be obtained through diet.
The body absorbs MCT oil fast, which speeds up metabolism and encourages fat reduction. In a meta-study on MCT oil, 1.12 pounds were lost over ten weeks. MCT oil supplementation translates to a projected yearly weight loss of 5.84 pounds.
Due to its pure and efficient composition, Bulletproof MCT Oil is the best MCT oil product we can suggest. The single component is coconut-derived MCT oil, and the product has no other ingredients.
Doubtful additives. This link will take you to the product page for Bulletproof MCT Oil on the company's website.
According to a medical evaluation, MCT oil dosages for weight reduction should be between 1.7 and 10 g daily. The maximum dosage should be two-thirds of a tablespoon because Bulletproof's MCT oil has 14 g per tablespoon.
conclusion
The infinity hoop can cause waist circumference and body weight loss in overweight people, as weighted hula hoop exercise has been proven in clinical studies.
Any resistance exercise performed regularly can help someone lose weight. Still, the Infinity Hoop is only worth buying if it makes training more enjoyable and encourages someone to stick to their workout schedule. It costs around $100.
Because of the additional weights, we think using the infinity hoop burns more calories than a conventional hula hoop.
We consider the "Links" in the Infinity Hoop to be a smart marketing strategy and can effectively help motivate people to continue exercising.
If someone can remove their first "links," they will have visual proof that the hoop helps them lose weight more visibly than most workouts. It's smart and plays on human psychology to promote better health.