Spider tattoos are one of the most popular insect tattoos, thanks to their tradition that draws from the traditional American tattoo. Today there are all kinds of spider tattoo styles, none of which go unnoticed. Whether they are solitary and minimalist, accompanied by cobwebs or together with other elements to complement a great piece, the spider tattoo is a perfect decision for both men and women. This post gathers some of the best designs we have made . Will you join us?
Meaning of spider tattoos
Spiders have had deep symbolism in many different cultures. Just as the spider web represents the connection with nature, the spider is considered the "weaver of reality", becoming a symbol of cosmic order. Other meanings include being a protection amulet and the character of overcoming complicated situations: the spider web is the labyrinth of life that we must overcome to move forward.
The truth is that beyond these meanings, the spider and especially the cobweb have been a repeated motif in old school tattoos, especially in the American tradition with icons such as cobweb tattoos on the elbow. Today this trend is updated with designs of all different styles: minimalist, realistic, traditional, blackwork, cartoon and much more. We see them below.
Realistic spider tattoos
Following the trend of 3D insect tattoos, realistic spider tattoos are one of the most popular designs today. Many people have a phobia of spiders, so tattooing one is a kind of therapy for these people. Another reason to get a realistic spider tattoo can be to admire its found beauty. Here is an example of a spider tattoo on the forearm with shadows that make it look alive and walking on top of the skin.
Tattoos_spider_realism
Another of the most current trends in tattoos is the blackwork style. This time, a spider tattoo that uses only black to give it volume in a very fierce and dangerous-looking design complements it with a spider web in the background, which provides the piece with great depth.
Realistic blackwork spider tattoo
tattoo spider razor most kid
Old school spider tattoos
Undoubtedly, old-school spiders are one of the most popular spider tattoo designs among men and women.
Thick lines, solid shadows and flat colours perfectly match the aggressive lines of giant spiders, with their hairy legs and mouth claws threatening to attack.
Traditional spider tattoo old school
The old school tattoo drinks from this tradition even when it does not reflect the spider itself. It is common to introduce elements such as cobwebs in other designs, such as this profile of a woman with a cobweb on her cheek.
tattoo arm face girl cobweb
And what about you, do you dare to get a spider tattoo? Whatever your favourite style,  you will find a team ready to come up with your ideal design
Spider tattoos for women
Spider tattoos for women are trendy. 3D  tattoos are one of the favourite options for many girls looking to express their spirituality in a modern and daring way.
Similarly, girls who are not attracted to realistic designs can find good alternatives in the minimalist or cartoon style.
However, it is considered a unisex tattoo style, so there is not much difference between the designs.
Spider tattoos for men
The Spiderman tattoo has become very popular among spider tattoos for men in recent years, and it is natural due to the popularity of the superhero. Generally, this tattoo symbolises the hero's values, but it is also a way of expressing fanaticism for the hero.
Beyond this, since men and women often use the same designs, there is not much difference between spider tattoos for men and women.
Spider tattoos for couples
Spider tattoos for couples usually represent the cosmic essence of love. Mixing them with spider web tattoos is always a good option, as it symbolises the couple's union is so strong that it transcends metaphysical and ethereal barriers.
Spider tattoo designs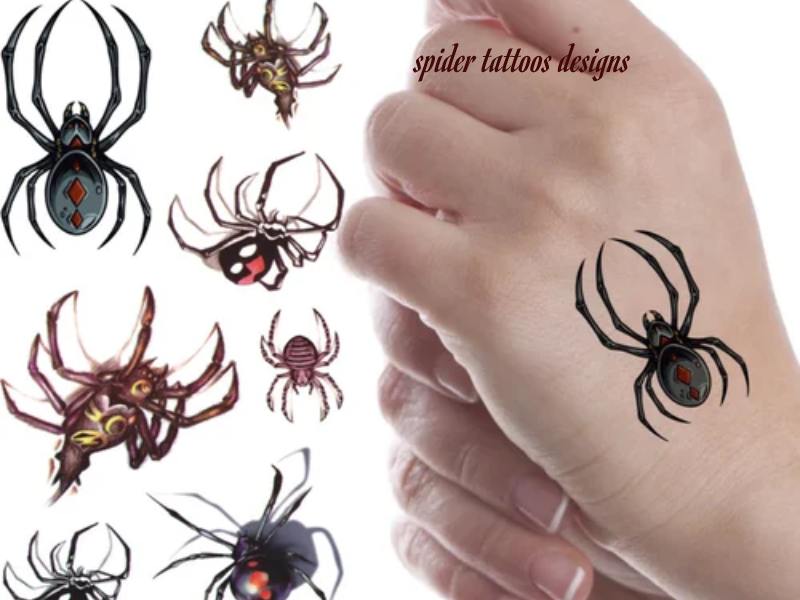 An important detail of spider tattoos is that they have not shown a marked evolution over time. Old school styles originating in the American underworld are still widely used.
Due to the aesthetic simplicity of the animal, it is also very versatile. Beyond the classic spider web tattoo on the elbow, it is also possible to make designs with cartoon, blackwork, tribal, realistic and minimalist styles.
3D spider tattoos
If you want to convey a bit of terror and intimidation to the people who see your tattoo, a very realistic 3D spider tattoo is ideal for you.