About Purple Hair Color 
Purple hair color always looks stylish. You can try different colors in this hair color to refresh your look gracefully. Deep lilac, light purple with blue highlights, pastel lilac, deep light purple, and blonde purple ombre are some popular ideas for trying purple hair color.
It's fun to explore hair ideas, especially hair color. You've probably already done some highlights and then moved on to dyeing your hair thoroughly. You may also want to try unconventional colors like strawberry blonde or pink. So let us give you another bold option: purple hair.
How to Get Purple Hair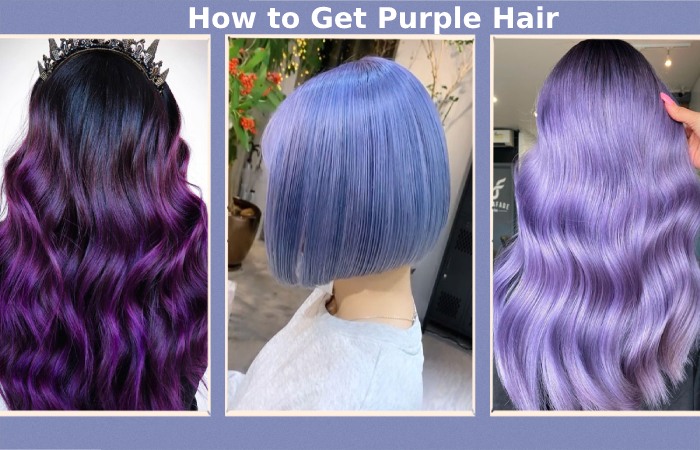 Dying your hair in bold colors is a great way to express yourself. A color that symbolizes wealth, power, and emotion, it looks good on a variety of different skin tones. If you need to dye your hair purple, you may need to bleach it first, although you may be able to create a base over dark hair with a plum or burgundy color. However, if you prefer to try purple hair without committing to coloring, there are options for you too!
Bleaching Your Hair if Needed
Bleach your hair for the most vibrant purple results.
Put coconut oil on your hair the night before bleaching for extra protection.
Protect your workspace and your skin from the bleach.
Mix ingredients according to package directions.
Use a brush to apply the color to your hair.
Let the bleach work for the recommended time, then rinse.
Condition your hair if you don't dye it purple right away.
Applying the Purple Hair Color
Use plum or burgundy first if you have dark hair and don't want to bleach it.
Protect your work area before applying the purple paint.
Shampoo your hair and then lightly towel dry it.
Spread a layer of Vaseline around your hairline to protect your skin.
Use a comb and clips to separate your hair into sections.
Apply purple all over if you want to dye your entire head.
Apply the color in sections for a highlight-like effect.
Color only the ends of your hair for an ombre effect.
Cover your hair with flexible wrap and leave the color on for 45 minutes.
Rinse the bleach with cold water and vinegar.
How Maintaining Your Hair Color
Try to shampoo your hair as tiny as possible.
Use a sulfate-free shampoo and cool water when you wash your hair.
Deep conditions your hair with every wash.
Enhance the purple with a refreshing shampoo color.
Reapply semi-permanent color every six weeks or as needed.
Minimize the use of hot tools.
Side-step chlorinated pools or wear a swimming cap.
Wear a hat when out in the sun.
Shades of Purple Hair Color.
Purple hair color is everywhere, from our social networks to fashion runways. This hair drift is as unique as the rainbow it's inspired by. The numerous shades of purple hair color mean you can do all from embracing your inner rock star to vibrantly covering gray hair.
Below are the Types of Purple Hair colors.
Purple Hair Color: This soft purple hair shade is reminiscent of a sweet spring flower. Perfect for anyone transitioning from gray to pastel hair, this light purple hair color can even work in the workplace. The hair color looks even better on anyone with a fair complexion and watery eyes.
Pastel Violet Hair Color: One of the trending shades of pastel purple is a subtle take on the color. Blonde or white hair can peek out under this super light hair color. Emphasize softness with baby pink lips and creamy peach blush.
Lavender Hair Color: Lavender has blue and purple undertones, the color of a calming sprig of lavender. A light yet energizing hair color, go for lavender if you like to stand out and have lots of silver jewelry
Deep Purple Hair Color: Deep hair color with hints of gray and brown, mauve is the majestic older sister of purple hair color. Go for this shade if you want a "mature" rainbow hair color, and complete the look with brown mascara, nude eyeliner, and lipsticks in your beauty routine.
Amethyst Hair Color: This gem-toned has all the sparkle and richness of one of our most popular birthstones. It works well on natural brunettes that are good at transitioning into this deep purple. Follow it up with a shimmering blush and metallic lips to complete the luminous quality of amethyst.
Smoky Purple Hair Color: This Smoky is intentionally mixed with shades of gray and also black for a dark, almost natural version of the rainbow. Try turning dark hair into an ombre or with dark roots intact, then lean smoky with a thick, sultry black cat eye and dark brows.
Eggplant Hair Color: Eggplant evokes the rich, savory color of vegetarians' favorite vegetables. It's a bold hair color announcement that works incredibly well on anyone with naturally dark skin or hair. Therefore The best part? You can dress up in a garden theme with complementary shades of brown and green, making this hair color perfect for brightening up the cooler months.
Violet Hair Color: This ultra-vibrant purple is a bold hair color statement that will look especially strong on anyone with natural brown hair. With a hair color in the shade of a deep purple flower, your hair will look like spring. The brightness means it works all year round. Try it with humble makeup like brown mascara and a shimmery highlighter to make the color pop.
Silver Purple Hair Color: Add metallic touches to your look with a purple color that lets the silver hair strands shine. Try this on-trend hair color in an emphasized style to liven up natural gray hair or add understated elegance to hair color.
Magenta Hair Color: Her favorite pencil is now a hair color. This vibrant color is a combination of bright pink and also cheery purple. We recommend opting for this look if you like to stand out. Finish off the fun hairstyle with a perfectly matching magenta lipstick.
Neon Violet Hair Color: You are calling all teens at heart and also future rock stars. Neon is having a flash, and there's no color more fun than electric purple. This eye-catching hair color also works as an ombre or highlights; you are sure to turn heads no matter what you choose.
Conclusion
Purple Hair Color is often used to express culture and also individuality. However, those who love lilac or violet hair think profoundly and look within themselves to decide the essential things in life and how best to share them with the world.
We know purple as a color that arises from the combination of red and blue, but it is more than that. You can try different shades, such as ash violet, indigo, and lilac, to name a few. Hence you can even wear beautiful purple hair! We have put together some hair inspirations to help you choose the purple hairstyle that suits you best.
Also Read: Hair Tinsel Hair Glitter Fairy Hair for Extensions of Braids in 2022
Also Read: Buckle Credit Card Login And Payment| Comenity Bank