About The Purple Eyeshadow
The Purple Eyeshadow trend is especially for those who love to keep their style edgy and fresh. Purple is a shade that represents luxury and royalty like no other. Lighter shades from the same color family can make you look mystical and fairy-like, giving you an unrivaled heavenly quality; think purple highlighters, shimmery purple pigments, and metallic eyeshadows to achieve that level of finesse. Deeper shades of purple going into violet are more attractive and glamorous.
Darker purple tones work well for trends like jewel-toned eye makeup looks where you could easily flaunt a stunning set of amethyst eyes. Deep purple eye makeup can also be smoky or sharp, instantly adding sophistication with a hint of color to any look. Since eye makeup has become increasingly popular due to the mandatory use of medical masks during the pandemic, keeping an eye out for new stunning eye makeup trends is all that can make an impact when it comes to eye m
The purple eyeshadow trend is loved by A-listers and has been sported by every girl from Bollywood to Hollywood. And we understand why that is. It's like a fresh pop of color and a base shade. It's one of those eyeshadow trends that are so versatile that it's a perfect choice for when you're in doubt and will help keep things fresh, sophisticated, and glamorous. So get inspired by these celebrity-inspired purple eyeshadow makeup looks. There is something for everyone.
How to Were Purple Eyeshadow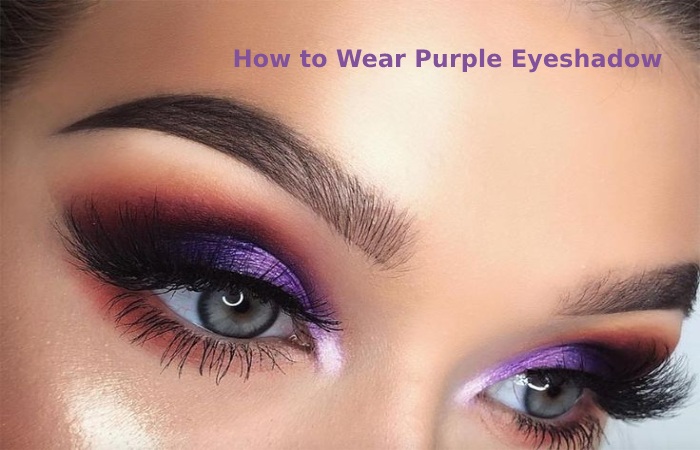 Purple eyeshadow is not for the timid. Opposite the big 'tude, this bold look makes a profound look-at-me statement with its great color and smoke show vibes. A play on the classic smoky eye look, this purple-hued variation looks fabulous on those with brown eyes but genuinely gorgeous on anyone.
Color in LIDS
Start by applying the purple eyeliner to the entire lid and blend it out so the streak is even. Next, Meghan wears our Tattoo Studio Sharpenable Gel Pencil Long Wear Eyeliner in Rich Amethyst.
Shade Crease
Next, apply a deep purple eyeshadow to the crease of your lids and slightly above. Meghan wears our City Mini Eyeshadow Palette in Skyscape Dusk.
Color in the Corners
Apply a lighter shade of purple eyeshadow to the inner corner of your eyes to brighten your eyes and add dimension.
Waterline
Finish the look by outlining your waterlines with purple eyeliner and applying a lengthening mascara. Like Lash Sensational Sky High Washable Mascara.
The Best Purple Eye Shadow Palettes Packed With Lilacs, Violets, and Lavenders
Take your eye makeup look to a new level with this versatile shade that works well on various skin tones.
Violet, lilac, lavender, and plum – all sorts of purples are taking over the latest packaged palettes. Brands like Anastasia Beverly Hills, Morphe, Huda Beauty, and M.A.C. have all hyped the royal shade, often pairing the cool hue with soft neutrals that make experimentation more accessible than ever.
And listen, we love these neutral eyeshadows primarily for their versatility, but purple can also work surprisingly well as a base for various makeup looks. "Purple is such a versatile color. I think it suits everyone," says makeup artist Lennie Billy. "I love how pastels look on fair skin tones, and deeper plum and purple tones look on deeper skin tones." We could not agree more.
Before you apply the powder, Billy tells you to start with an eyeshadow base. "Purple is a complicated shade to blend at times and tends to smear easily. Creating a base creates a more even finish," she says. Another Lennie trick is to use an eyeliner pencil in the shade similar to the purple you want to apply as a base to make the powder look even and shiny. For example, if she is wearing a medium to a deep shade of purple, she can use black as a base to make the purple more vibrant.
To help you do a little more than dipping a toe in the plum pond, we've rounded up the best purple eyeshadow palettes with a few expert recommendations, including a bold option from B.H. Cosmetics, more neutral plums from Tom Ford, and an all-around Anastasia Beverly Hills' beloved compact. In the mix, you'll find bold, shimmering, and more subtle shades for everyday wear, available in shimmer, matte, and satin finishes. Perhaps even more enticing is that there are several drugstore purchases and delicacies worth trying.
Anastasia Beverly Hills Norvina Pro Palette Vol.5
One of our first hints that purple is a shade to stay awake at was when Anastasia Beverly Hills Norvina's palette went viral. Five volumes later, the plum mix is ​​still just as intriguing. Packed with 25 wells, the Pro Palette Vol. 5 is a top pick among our experts. Lennie Billy explains that while the tin is beautiful, the squares inside have "a wide range of pastels, shimmers, medium and deep violets" and excellent pigment release. In addition, the color combinations to play with are almost endless.
B.H. Cosmetics Trendy in Tokyo
You won't find any neutral shades in this bright and bold palette. While the rainbow mix is ​​a departure from other palettes on this list, the creamy, pigmented, and buildable shades are just too good to ignore—the 16 molds in the B.H. Cosmetics Trendy in Tokyo Compact Pack is made to be seen. The pick is a staple in cosmetics artist Katherine Smith's kit. She cites the color choice as one of her favorites, combining shades of grape, deep purple, and pink to achieve this purple look on model Ebonee Davis. She also has a pro tip for the most vibrant color impact: "I love applying concealer, which is about two shades lighter, all over the lid before applying eyeshadow," says Smith.
Tom Ford Quad Eye Color Eyeshadow Palette – Virgin Orchid
Small but mighty, this Tom Ford quad is another pigmented favorite from Smith. The neutral qualities in this Virgin Orchid compact version let the aubergine hue shine through. But also balance each other out in a versatile metallic base that you can layer with brown and cream shades.
Jane Iredale Eyeshadow Set in Purple Rain
Makeup artist Min Min Ma lists this Jane Iredale palette as one of her favorite products. Not only are powders buildable, but the Purple Rain Eyeshadow Kit is small enough to throw in your bag for quick changes and touch-ups. "What I like almost about the Jane Iredale palette is that it offers a range of purple tones in different textures," she explains. She also suggests playing with sheer and matte finishes as she mixes different color combinations. "You can mix and match eyeshadows [into] a smoky eye, or just apply a shade with mascara [for] a cute daytime look." There is also a highlighter that you can apply to the brow bone to tie the look together.
Juvia's Place The Violet Palette
Although Juvia's Place The Violets palette is not as extensive as some of its eye makeup counterparts, these shades pack a punch. For example, the rich, deep shades of aubergine can be used to create a dramatic smoky eye look, while the lighter shade of purple is soft enough for everyday wear. In addition, the six-pan compact is a favorite among makeup artists; Smith particularly loves how the velvety collection of matte and shimmer shades works on darker skin tones.
Colourpop It's My Wish Eyeshadow Palette
Lennie also loves this Nine Plate Pick from Colourpop. The It's My Wish Palette is an affordable option that features one of the most wearable light and deep purple combinations we've seen. While we prefer the Chick Lit burgundy shade. This isn't one of those palettes where you use just one color and leave the rest untouched. Each shade works just as well individually as it does mix. The price of less than $20 is also a nice bonus. If this color scheme doesn't quite hit your stride, Lennie also recommends another option from Colourpop, Lilac You A Lot, which has a lighter range of purple hues.
Ace Beauty Paradise Fallen Palette
Makeup artist Robert Sesnek recommends this Paradise Fallen Palette from Ace Beauty. Of the 12 shades in the pack, five are true purples. The rest are complementary neutrals designed to aid smoking. In conjunction with this palette, his tools make it easy to apply his creation. Flat eyeshadow brushes are ideal for using these pigmented colors, and for a laminated finish, lightly dampen the brushes before applying the metallic options.
Milani Gilded Luster Eyeshadow Palette in Twilight
If glitter is your thing, the Milani Gilded Luster Eyeshadow Palette in Twilight will capture your imagination. The 15 Pan range is almost split between lighter shades of beige and brown and medium to deep plums. Even the most velvety eyeshadows have a slightly shimmery finish and the shimmer of glitter without being too thick.
ELEVEN. Cosmetics Bite-Size Eyeshadow Palette in Açai You
This mini-range of the pharmacy brand E.L.F. costs only $3. In addition, cosmetics offers four shades of purple in matte and metallic finishes. Each shade leans more towards the cooler side, which can look ashy on certain skin tones. So those with warmer complexions can skip this one. For everyone else, you can mix and match the purple hues however you like. If that option isn't your thing, the Bite Size palette range also comes in seven other color options.
Rimmel London Magnif'eyes Electric Violet Edition Eyeshadow Palette
Rimmel London's Magnif'eyes Electric Violet Edition Eyeshadow Palette adds more vibrancy. The intensity of the color appears as vivid to the eye as it does on the packaging. As well as light and dark purple shades, there's also a pearlescent cream to illuminate and an almost black cream that can be use as an eyeliner –moisten the tip of the brush before applying.
Huda Obsessions Palette in Amethyst
Huda Beauty's Obsessions Palette in Amethyst is a dazzling array of purple hues inspire by the quartz stone for which it is named. Not only is this compact test that you don't need a huge variety to meet your color needs. But the rich shades offer a mix of nine highly pigmented berry mattes, lilac shimmers, and metallic violets. All suitable for day and night.
Violet Voss Sweet Violet Eyeshadow Palette in a Fun Size
This Fun Size Violet Voss Sweet Violet Eyeshadow Palette may only be a few inches in size. But the range of electric shades packs a punch. Of the ten shades of bread, we're drawn to the prettiest soft lilac on the far left of the bottom row and a bright plum with a subtle pink tint on the far right. There's even a neutral cream shade in the pack that can be used as a base or to soften some bolder shades.
Lavendaze Morph Art Palette
Morphe's Lavender Palette offers pastel shade variations in a mix of matte and shimmer finishes. Mix purples with neutrals, apply lighter metallics for a shimmery top coat, or keep your look soft and apply the shimmery champagne shade to the inner corners of your eyes.
Maybelline New York the City Skyscape Dusk Eyeshadow Palette
We love an easy-to-wear palette just as much as an affordable one, and this Mini Skyscape Dusk Eyeshadow Palette from Maybelline New York the City delivers on both fronts. The six dusk-inspired shades are both buildable and bold, with a matte finish that makes them infinitely more versatile. Placement hints on the back can make the shades even easier to master. Numbers paint it for a flawless eyeshadow look.
Natasha Denona Purple Eyeshadow Palette
We'll admit that Natasha Denona's Lilac Eyeshadow Palette is a bit pretentious, but the velvety eyeshadows are worth it. Billy cites the color mix as one of his all-time favorite palettes due to its color palette and durability. In addition, these shadows won't budge or crease, so that you can skip foundation. Were sold.
Conclusion
Purple eyeshadow makeup can be intimidating, but it's not as difficult as you think. Shades of purple look great on most eye colors, especially if you find it difficult to wear traditional colors like red or blue. Plus, purple can be made up of many shades. From pastel to deep and vibrant, making it easy to fit into your routine, whether you have 15 minutes or five hours to get ready.
Also Read: Albolene Moisturizing Cleanser – Makeup Cleanser for Skin
Also Read: LA Fitness Owings Mills – Introduction, History, Expansion and More