Albolene Moisturizing Cleanser
Albolene Moisturizing Cleanser liquefies on interaction with skin to wholly and gently dissolve makeup, dirt, and environmental residue. Apply Albolene, wipe with a tissue or a soft cloth or cotton pad and see how much cleaner and smoother your skin can be.
Albolene Moisturizing Cleanser is a cosmetics remover that effortlessly removes stubborn mascara and lipstick while leaving skin feeling soft, supple, and hydrated. Albolene is also an actual and gentle remover. It's the beauty industry's best-kept secret as this multipurpose product has helped keep skin looking beautiful and younger for generations!
Albolene is a makeup remover beauty product. Druggists across the country sell it as a moisturizing cleanser. The product has been around for over 100 years and is highly regarded by professional makeup artists for its ability to remove heavy makeup while moisturizing the skin.
What Makes Albolene Different and Better!
Independent clinical studies show that Albolene's combined makeup removal and hydration rate are significantly higher than the competition.
Daily use of Albolene is highly recommended to maintain healthy skin by gently removing makeup, dirt, and environmental debris.
Daily use of Albolene removes makeup and residue from the skin and protects the outermost layer of skin from drying out and damage. In addition, due to its high moisture content, Albolene can help prevent dehydrated or irritated skin.
Daily use of Albolene can promote vibrant, healthy skin and a younger-looking complexion.
Albolene contains no parabens or preservatives.
The Fragrance-Free Moisturizing Cleanser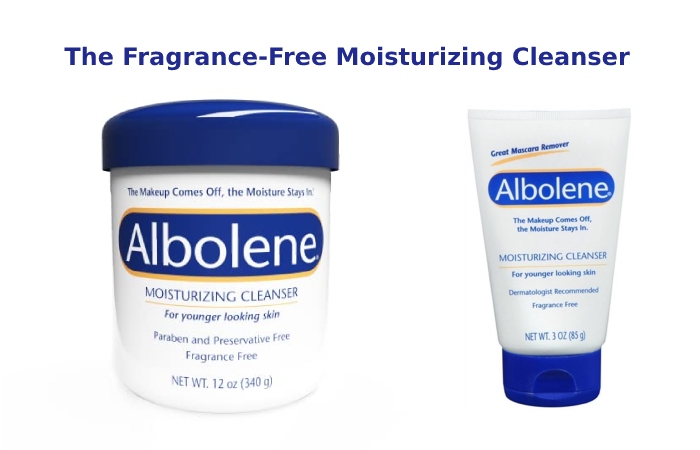 Albolene Moisturizing Cleanser liquefies on contact with skin to wholly and gently dissolve makeup, dirt, and pollution. Apply Albolene, wipe with a tissue or a soft cloth or cotton pad and see how much cleaner and smoother your skin can be. With Albolene, no soap or water is required so that you won't be left with the dryness of soap and water. When used daily, Albolene Cleansing Balm helps keep skin clean, smooth, and younger-looking. Also, Albolene is paraben and preservative free, so you can feel confident about what you use on your skin.
Allure Magazine says of Albolene Moisturizing Cleanser:
This cleanser removes waterproof eye makeup, long-lasting lip stains, and even professional stage makeup. And it's so hydrating that it easily doubles as a moisturizer for dry, cracked skin.
Allure also includes Albolene in its 10 Skincare Resolutions to Make This Year. In addition, Heidi Waldorf, a dermatology lecturer at Mount Sinai School of Medicine, recommends that patients take Albolene Moisturizing Wipe with them for nights when they're tired. Please apply with a tissue, wipe off, and don't worry about residue; it's a moisturizer.
com also mentions Albolene in their article Halloween's over. Now You Have to Get the Sparkle Off when removing waterproof makeup. Get a can of Albolene, says makeup artist Troy Surrat, Actor used to industrial force phase makeup. It's more effective at breaking down and removing heavy makeup than soap and water, Surratt explains
Albolene Moisturizing Remover is available in 12 oz. glass and 6 oz. Jug. Albolene has a past of removing makeup while moisturizing the skin and is a long-time favorite with makeup artists, stage artists, and screen actors who need to remove their stage makeup daily.
Albolene Through the Ages
Albolene has been cleansing and moisturizing generations of faces for over a century to keep complexions healthy and youthful looking.
Albolene's proven effectiveness has gained a following over the years from consumers looking to gently cleanse and moisturize their skin to keep it vibrant and healthy. Besides, it is easy to attach and remove. Removes stubborn makeup and locks in moisture. It's the perfect combination for a practical yet effortless beauty routine.
One of the first uses of Albolene was to cleanse the delicate skin of a baby's nose gently. January 1915 Ladies Home Journal
Generations of stage and film actors have trusted Albolene to gently cleanse their complexions and leave their skin looking radiant, healthy, and youthful.
Ingredients
Since 1885, Albolene has been the perfect multipurpose product that offers everything you need to remove makeup, cleanse and moisturize your face. Fragrance-free and free from harsh chemicals, Albolene leaves no soapy residue or dryness. Unlike some skin cleansers, Albolene has a higher moisture content, so it can be used daily without drying out the skin. In addition, our formula has been proven to cleanse and hydrate your skin to keep it healthy, supple, and youthful.
Albolene Ingredients
Mineral oil is a skin conditioner to soften and smooths the skin.
Petrolatum is a moisturizing, emollient, and skin conditioning ingredient. It also provides protection to prevent the skin's moisture from evaporating.
Paraffin is a skin conditioning ingredient with lubricating properties and can also help retain moisture in the skin.
Ceresin is a natural wax used as an emulsifier and conditioner.
Beta carotene is a carotenoid compound used as a skincare ingredient.
Introducing Albolene Eye Makeup Remover
Albolene Hydrating Cleanser has been known for generations as the best solution for cleansing and maintaining the skin soft, supple, and beautiful. Now, Albolene brings a new solution to perfect one of the most challenging makeup removal tasks: removing today's long-wearing, waterproof eye makeup!
A little is enough – just a few drops of Albolene eye makeup remover thoroughly and effectively remove even long-lasting eye makeup and mascara formulations.
Albolene Eye Makeup Remover's Silky-Smooth Serum:
Gently and efficiently removes even the most stubborn eye makeup without burning or irritation.
It is excellent for removing long-wearing mascara and eyeshadow.
It even removes waterproof mascara.
It leaves your delicate eye area nourished and hydrated
Are contact lenses safe?
It contains ingredients that care for your eyelids and eyelashes.
It is free from parabens, fragrances, and preservatives.
How to Use Albolene Eye Makeup Remover
Completely and effectively removes even long-wearing eye makeup and mascara formulations.
Wash your hands well. When using it for the first time, gently deflate the pump. Next, apply a drop of Albolene Eye Cosmetics Remover to your clean finger. Gently rub the eyelashes and eyelids. Use a cotton pad, tissue, or soft material to wipe off eye makeup, mascara, and eyeliner—no need to rinse with soap or water.
Tips for Removing Long-Wearing Eye Makeup
Remove eye cosmetics first: It's best to start your nightly face washing rituals by removing eye makeup before moving on to the rest of your face.
A little Albolene Eye Makeup Remover is enough: apply a little Albolene around the eyelids and lashes in light circular motions.
Use cotton pads or a soft material to remove: Don't take the delicate skin around your eyes for granted. After applying Albolene Eye Make-up Remover, use a cotton pad or soft cloth to wipe off the mascara, eyeshadow, and liner gently. Repeat the steps as needed.
Beauty Tips & Techniques
It's always fun to find loveliness products that "do double duty," and with Albolene, you have that extra! Here are some unlimited beauty uses for Albolene Moisturizing Cleanser
Moisturizing Facial
Apply a thin layer of Albolene to the face and neck. Leave the product on for about 5 minutes. For added benefits, apply during the last five minutes of your bath – the steam allows the product to penetrate your open pores. Then wipe off excess product with a cotton pad or tissue. Do this one time a week to keep your skin smooth and soft.
Rough and Smooth Skin
If you have applied too much Albolene to your face while removing makeup at night, don't let it go to waste. Instead, use the extra on cuticles, elbows, knees, or heels to smooth rough areas.
Luscious Lips:
Rub Albolene on lips. After a short minute, use a fresh, damp, small, soft-bristled toothbrush to brush away dry, flaky patches of skin. Finally, line the lips with a neutral lip liner and apply a little more Albolene for a dewy pout.
Eye Shadow Rescue:
Is your favorite eye shadow torn to pieces? Don't worry. Take the rest and place it in a small plastic bag or sealable container. Mix in some Albolene to create a creamy shade of your favorite color.
Red Carpet Ready Legs
Don't you love how celebrity legs look at events? To realize this look, rub Albolene along your legs and dust them with some illuminating powder to make them look elegant and sophisticated. Women with darker skin tones can combine some sheer bronzer with Albolene for a warm, sexy look.
Intensify the Décolleté
Rub Albolene along your décolleté and collarbone. Dust with a highlighter for a shimmery result when exhausting strapless dresses.
Solid Perfume Scent
For a continuing, refreshing scent, combine a few drops of your favorite essential oil with a teaspoon of Albolene in a small plastic container. Mix well and rub onto throb points. Then, use Albolene to test with other essential oils and create your own affordable, "custom" scent.
Tips for Healthy Moisturized Skin
Dry skin is caused by water from the top layer of the skin. Emollient moisturizers like Albolene help create a layer on top of the skin that can help retain moisture. Petrolatum and mineral oil are excellent emollient ingredients found in Albolene. Here are some tips to help keep your skin looking and feeling hydrated:
Moisturizers can stop dryness and even tears if your skin is thin and sensitive. In addition, products like Albolene that contain occlusive ingredients like petroleum jelly and paraffin can help prevent water evaporation and keep skin moisturized, supple, and smooth.
Long, hot showers can feel good, but they can strip moisture from your skin and remove protective oils. Limiting showers to no additional than 10 minutes and keeping the water slightly cooler can help boundary moisture loss. Lock in moisture by putting on cream like Albolene within three minutes of getting out of the bath.
Central heating systems (as well as universe heaters) blow hot, dry air throughout your home and office. Humidifiers bring more moisture into the air, preventing skin from drying. Place several small humidifiers around the house; help distribute water more evenly.
Conclusion
Albolene Moisturizing Cleanser liquefies on contact with skin to wholly and gently remove makeup dust and even stubborn mascara and lipstick. It is also an actual and gentle cleanser. Albolene Moisturizing Remover smooths the tissues and sees how much cleaner and smoother your skin can be. Leaves no dryness from soap and water. It's the beauty industry's best-kept secret as this multipurpose product has helped keep skin looking beautiful and younger for generations.
Also Read: Curl Refresher Spray – Best Spray That Adds Shine & Softness
Also Read: Improve Facial Health – Skincare Tips for Clear, Healthier Skin Fast