About KIN Skincare
KIN Skincare: Enjoy natural, authentic, and effective spa products at home with KIN. Originally developed exclusively for use in Thailand's most famous day spa, Oasis Spa, KIN now exists for those who want spa-like results at home. There's a spa treatment in every drop of our fresh, natural products. We call our spa beauty products K-I-N because:
K- Suggest a kiss; give your body the love it deserves.
I- Transmits inspiration, refreshes, and restores body, mind, and spirit.
N – Express nature and rejuvenate the body through the power of all-natural compounds
Whom is a KIN Owned By?
Botanist chemist Will Evans founded A'kin in Australia in 1987, where he saw a demand for pure, effective, and high-quality natural beauty products.
Where is a KIN made?
A'kin Oils are proud to be made, owned, and developed in Australia, with over 15 years of experience and passion for creating award-winning, authentic natural products to give your skin exactly what it needs, just as nature intended to provide.
Product Inspiration
Thailand's most famous Oasis Spa locations inspired these three product collections: Celebration, Secret Charms, and Ocean Breeze. The Celebration line was inspired by the beating heartbeat of the great metropolis Bangkok…majestic peaks of Chiangmai's cultural heritage influenced Secret Charms products…the crystal clear ocean and sandy beaches gave rise to the Ocean product Breeze.
Secret Charms Collection of KIN Skincare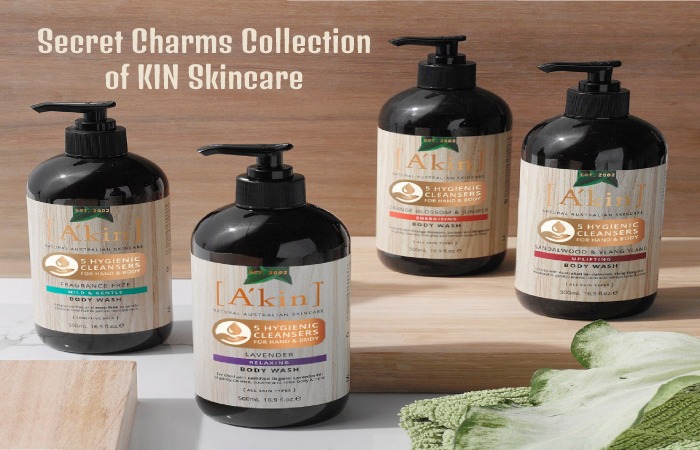 To maximize the joy of life and minimize the things that bother us, we must consider the sense of an ancient culture that discovered many of nature's secrets for wellness, beauty, and peace of mind. The Secret Charms Collection encompasses the best of the Golden Age of the Lanna Kingdom of North Siam to bring joy back to you and improve your quality of life.
The Secret Charms collection sustains the skin and is especially suitable for dry to dehydrated skin.
List of products
SECRET CHARMS Essential Oil Blends
SECRET CHARMS Skin Oil
SECRET CHARMS Enriched Body Scrub
SECRET CHARMS Silky Hair Shampoo
SECRET CHARMS Silky Hair Treatment
SECRET CHARMS Glamorous Body Wash
SECRET CHARMS Moisturizing Body Glow Cream
SECRET CHARMS Hand Cream
SECRET CHARMS Kiss of Angel Lip Butter
+OCEAN BREEZE Collection
+CELEBRATION Collection
KIN Products Gift Set
Aromatic Diffuser Set
+ Celebration Aromatic Reed Diffuser
Fragrant Reed Diffuser + Secret Spells
+Ocean Breeze scented reed diffuser
Gift Set
+Kisses Collection
+ Silk gift box
KIN Skincare's
+ Skin Oil
Secret Charms skin oil
Celebratory skin oil
Ocean Breeze skin oil
+ Body Scrub
Enriched body scrub with secret magic
Celebratory Purifying Body Scrub
Ocean Breeze Refreshing Body Scrub
+ Bath Gel
Secret Charms Glamorous Shower Gel
Celebration Soothing Shower Gel
Ocean Breeze Freshen Up Shower Scrub
+ Moisturizing Body Shine
Secret Charms Body Glow Moisturizer
Celebration Shimmer Body Moisturizer
Ocean Breeze Cooling & Calming Body Moisturizer
+ Hand Cream
Secret Charms hand cream
Celebration hand cream
Ocean Breeze hand cream
KIN Skincare: Overview
One of my favorite ingredient discoveries this year was green coffee seed oil. I want it on everything now. I saw KIN Skincare (formerly KIN SKIN) on Instagram and need more research. KIN Skincare is a skincare line based on Australian green coffee oil. It's a small independent brand. Developed by Ashling, a former esthetician, and makeup artist, KIN Skincare uses grain grown and pressed in Australia. You have three products. The Coffee + Honey Myrtle Mist comes in a small 30ml bottle. It smells divine like honey, and the list of inci is simple. It looks like the line is repackaging with new style labels and reformulating them by adding a second Hyaluronic Acid. Honey myrtle is uplifting, and cleansing, said to be similar to tea tree and lemon balm. He returns on December 28.
Advantages
Smooth, Smooth + Fill
Strengthening
Uniform skin color
Calms inflammation
Ingredients
Myrtle Honey Hydrolate, Green Coffee Seed Extract, Niacinamide, Sodium Hyaluronate (Very Low Molecular Weight), Phenethyl Alcohol, Lactic Acid
The Green Coffee Skin Elixir is Pure Green Coffee Seed Oil
Nothing more. It has a gorgeous green hue and a medium to heavy texture, and I prefer to use it at night because of the surface. You can mix in a drop or two daily for lighter oil coverage. Green coffee oil is rich in fatty acids, vitamin E, and sterols, and it has polyphenols like chlorogenic, quinic, and ferulic acids, making it a powerful antioxidant. Some studies have shown that essential coffee oil helps produce elastin and collagen. It's anti-inflammatory and helps with anti-aging basics like firmness, texture, and wrinkles.
I like to use it neat, but I also bought it to mix in a drop here or there if my products don't contain Green Coffee Seed Oil. It's affordable. You get 30ml for $58, and because it's so potent, it could last you all year round, especially if you're using a touch here or there. It also has a powerful scent; I can't put my finger on it: green and earthy. Although initially, it has a heavier texture, it is not greasy. It absorbs in about 5-10 minutes and is never on the skin. Consider green coffee seed oil if you want to add a super-powerful ingredient to your skincare routine.
Advantages
Moisturizing + Smoothing
Repair
Plumps the skin and prevents dehydration
Minimizes fine lines + restores elasticity.
Improved texture + luminosity
Neutralizes free radicals that root signs of aging.
Sebum balance
Coffee + Yarrow Gel-to-Milk Cleanser is a Gel Oil Balm with Green Coffee Oil.
Details of KIN Skin Care: This superstar cleanser will melt makeup while conditioning and hydrating. Applied as a gel, massaged into the skin like oil, and washed like milk, it leaves the skin feeling very soft and hydrated.
Advantages
Cleanser + Detoxifier
Moisturizing + Smoothing
Soothing + Repairing
Beneficial for all skin types
ingredients
Green Coffee Arabica (Coffee) Seed Oil, Glycerin, Ricinus Communis (Castor) Seed Oil, Oryza Sativa (Rice) Bran Oil (Enriched with Eyebright & Horsetail), Prunus Amygdalus Dulcis (Almond Oil Sweet), Raw Honey, Persea gratissima (Avocado), Sesamum Indicum (Black Sesame) Seed Oil, Sucrose Laurate, Citrus Aurantium Dulcis (Orange) Fruit Fluid, Vitamin E – Mixed Tocopherols (Certified Non-Go, Derived Sunflower Oil), Achillea Millefolium (Yarrow) Oil, Lavandula Angustifolia (Lavender Oil, Cedrus Atlantica (Atlas Cedarwood) Oil.(Naturally found in essential oils) Linalool, Limonene, Geraniol
I liked it as both a morning and night cleanser. It has oil, so it is very good at removing makeup. It is emulsified to rinse clean. I prefer my gel oil balms as a morning cleanser, but it can be both. It can also be recycled as a moisturizing mask. I love the pump dispenser. This cleaner comes with a bamboo cleaning cloth. This has a heavy gel texture with an oil-based feel. The aroma is green and earthy from coffee oil but has a light citrus note from some natural essential oils. I'm obsessed with gel balm cleansers, which are outstanding with green coffee oil, honey, avocado, and black sesame oil. It cleans and leaves my skin soft and hydrated.
Conclusion
A'kin Soothing Day and Night Cream. A'kin's moisturizer is a good buy for people with sensitive skin, and it's lightweight and slightly moisturizing but may not moisturize enough for dehydrated skin. It's inexpensive too!
Also Read: SkinCeuticals Black Friday – Best Adore Beauty Deals in 2022