Many excellent skincare products are primarily or only available online. However, you might understandably hesitate to buy beauty products online if you're used to shopping in person. In stores, you can swatch products and even get samples to take home, but you obviously can't do that if you are shopping online. But with a few tips and the right approach, you can shop for skincare products online successfully just as you would in person.
Shop at trusted stores and brands.
When shopping for new skincare online, we highly recommend prioritizing trusted stores and retailers with a solid reputation for shipping out quality products. Counterfeit products are real, and so are scammy companies that don't send you what you ordered or refuse to process a return. Instead of buying the absolute cheapest product from an Amazon reseller with a nonsense name, get it from a major beauty retailer or buy directly from the brand instead. It might not be the least expensive option but it's worth it to save yourself hassle down the line.
Buy from retailers with a good return policy.
Speaking of trusted retailers, you should only buy skincare from online stores that allow you to return products — even if they've been opened and used. Major retailers like Sephora and Ulta allow you to return used products within 30-60 days, and most skincare brands follow suit. This means that you can get your money back if a product you bought online just doesn't work well for your skin.
Understand your skin type.
Different products work for different skin types: A moisturizer designed for dry skin will probably be too heavy for someone with oily skin. Most online skincare product pages will have a description of what skin type the product is best suited for. The key here is knowing your own skincare type and what kinds of products work best for you. If you don't already know your skincare type, try this simple quiz to figure it out at home.
Take inventory of your existing skincare.
Before placing an online skincare order, take inventory of your bathroom cabinets to figure out what's missing and what can wait for a future order. For instance, if you already have a backup skin tightening cream in your medicine cabinet, then you probably don't need to order a backup for your backup just yet. Also make a note of expiration dates and how long products have been open, and then toss anything that's expired.
Seek out reviews from people with your skin type.
Whether you are shopping for skincare products online or in store, we recommend checking out reviews from dermatologists, aestheticians, and other experts prior to making your purchase. Prioritize reviews from people who have a similar skin type — if someone with oily skin loves a moisturizer, that doesn't necessarily mean anything for people with dry skin. Also check out website reviews for a product to see if there are any quality issues with the packaging or formulation.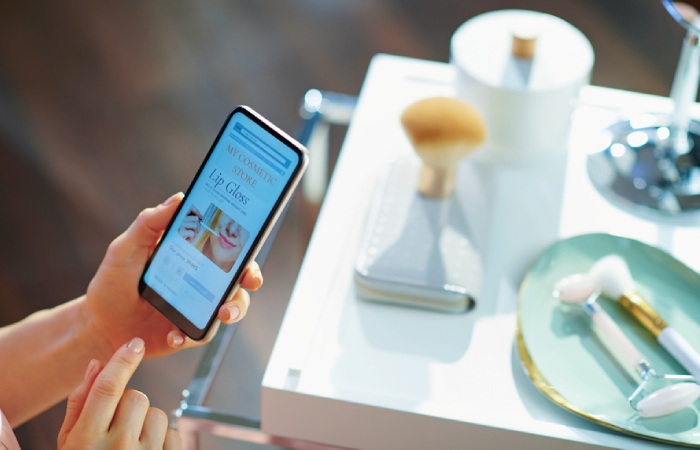 Use recommendation tools.
Many major retailers and beauty brands offer tools to help you find your perfect products while online shopping. You can take a personalized quiz to get recommendations based on your skin type or use a shade finder to find your perfect foundation, blush, or lipstick. While these tools aren't an exact replacement for swatching products in the store, they can help you narrow down your options and get a more accurate match than you would have otherwise.
Be specific about what you are looking for.
One of the benefits of online shopping is the ability to get really specific about what kind of products that you are looking for. For instance, search filters will easily help you find a vitamin C serum that is vegan, cruelty-free, and fragrance-free; comes in sustainable packaging; and costs less than $50. Take advantage of these search filters to keep your search on track and find exactly what you are looking for in minutes.
Check the ingredients label.
Whenever you shop for skincare ingredients, it doesn't hurt to read through the ingredients label to see what it actually contains. You should also watch out for terms that matter to you, such as vegan, cruelty-free, organic, clean, natural, etc. Keep in mind that a lot of these designations aren't regulated in any way, so it's a good idea to compare them to the ingredient label to see what's marketing hype and what's truth.
Try travel sizes first.
If you don't feel comfortable buying full-size beauty products online, then consider purchasing a travel size 3-step skincare kit first. These travel size skincare products are the perfect way to try out a new product without spring for the full size. The kits also let you try multiple products from a brand at once, and some retailers even offer best-seller kits featuring sample sizes from different top-selling brands.
Take advantage of sales and discounts.
Another benefit of online skincare is the ability to take advantage of different sales and discounts. If you shop frequently from certain retailers or brands, sign up for their emails so that you can be the first to know about upcoming sales. Many places also offer loyalty programs so that you can accrue points with each purchase, and then later redeem them for a small discount.
We hope this guide helped you feel more confident about buying skincare online from reputable retailers. Whether you are new to shopping for skincare online or an internet beauty veteran, we'd love to hear from you in the comments below! Let us know your other advice for shopping online and what your favorite success stories are.