The leaves are turning to brilliant shades of gold and red. As you take in that crisp smell and feel in the air, it's time to get ready for the joy of apple picking. Put on your comfortable wedges to pick those ripe Fuji and Granny Smith apples. It's the perfect season to enjoy the great outdoors while immersing yourself in the thrill of bringing home a full bushel of fresh, juicy apples. Whether you're planning a day at the orchard or going on a cozy date with your significant other, take a look at our list of nine adorable outfits to go apple picking.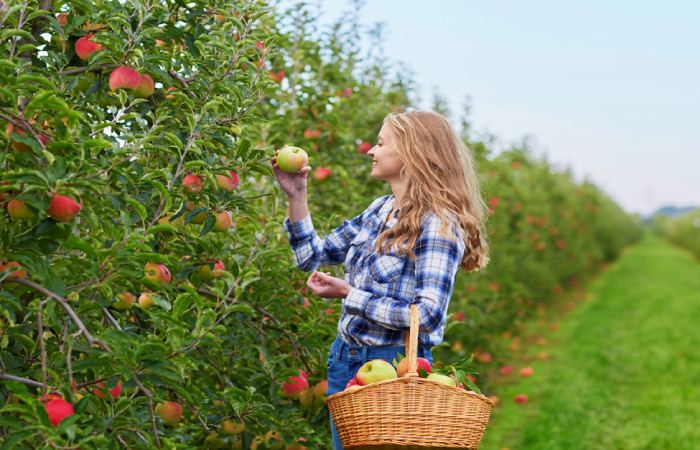 Classic Flannel and Jeans — There's nothing quite like the rustic charm of classic flannel and jeans when you're apple picking. Choose whatever kind of jeans you like, whether those are straight leg or skinny, to suit your taste and the weather. Tuck the jeans into durable boots or sneakers for easy movement around the apple orchard. Then, add on a cozy flannel in rich fall colors, which you can keep unbuttoned or tie at the waist for a more relaxed feel.
Sweater Dress and Tights — Start with a cozy, oversized sweater dress and layer with thick, opaque tights for more insulation and comfort. You can accentuate your curves by cinching the dress at the waist with a belt. Finish off the look with ankle boots or knee-high wellies to keep your feet dry at the orchard. Accessorize with a knit beanie for a bit of fashion and warm functionality.
Overalls and Knit Sweater — You can pair the overalls and knit sweater with sturdy work boots for a more casual farmer-inspired look. If you'd rather dress it up, pair the overalls and knit sweater with espadrille wedges instead. To style this look, pair well-fitted corduroy or denim overalls over a chunky knit sweater. Layer the sweater underneath the overalls for warmth and style. For something more casual, roll up the overalls' cuffs and wear them with ankle-length boots or sneakers. Accessorize with a wide-brimmed hat and tote bag for apple collecting.
4. Distressed Jeans and Ankle Booties — Get effortlessly chic by wearing distressed jeans and ankle booties together. Distressed denim offers a casual charm that can be tucked into ankle booties with a low heel or chunky sole. Even on uneven terrain, these practical booties will offer a comfortable style. Layer up with a knitted sweater or cozy flannel shirt to keep that fall chill at bay.
5. Corduroy Skirt and Blouse — For a dressier ensemble at the apple orchard, pair a corduroy skirt with a lightweight blouse in rust or olive green. This fall style looks great with a denim jacket and flats as you navigate the rows of apple trees. Accessorize with a floppy hat to shield your hair, eyes and face from the autumn sun. It's a timeless and elegant look that's both fashionable and pragmatic for apple picking.
6. Cozy Cardigan and Leggings — Fashion experts share that layering when you go apple picking is not only a practical idea to take off layers as you need, but it's also a fashionable choice. Layer up your outfit with a cozy cardigan. This warm and stylish look begins with soft, stretchy leggings and a snug, oversized cardigan. Opt for a cardigan in earth tones and layer with a long-sleeved tee or thermal top to get extra toasty. Carry a crossbody bag when you're apple picking to hold onto your apples and other essentials.
7. High-Waisted Jeans and Graphic Tee — For a charming apple-picking look, wear a graphic tee with high-waisted jeans. It's the perfect combination for comfort and style. Try a graphic tee with autumn themes or an apple pattern. You can layer with a lightweight flannel shirt tied around your waist for a rustic touch and additional warmth. Then, finish off the look with sneakers for a laid-back vibe, or make it dressier with cute flats.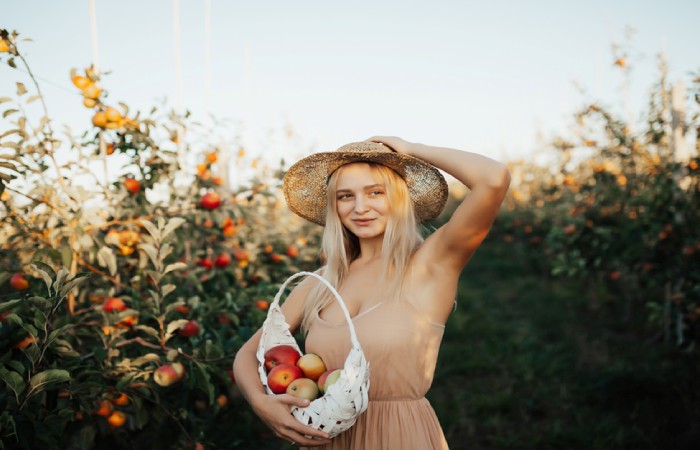 8. Chambray Shirt and Quilted Vest — A chambray shirt is a casual button-up made from a lightweight, plain-woven cotton fabric known as chambray. To get a sophisticated apple-picking look, wear a well-fitted quilted vest over a chambray shirt and tailored trousers. Finish off the look with knee-high boots and put your hair up in a tight high bun.
9. Floral Midi Dress — You may think that florals and midi dresses don't match for autumn, but au contraire! To style the floral midi dress for autumn apple picking, wear a midi dress with fall flowers like sunflowers, roses and other red, orange and yellow-hued flowers. You can wear autumn-toned tights and complete the look with comfy neutral-toned
This season is the perfect time to make cherished memories while embracing the beauty of the fall season. What better way to enjoy the fun of apple picking than wearing washable shoes that can go through the dirt and leaves while you wear that comfy flannel and jeans combo? Whatever style you choose, have fun while staying comfortable amidst the apple trees. May your style be as sweet as the Gala apples you gather!