The best sunglasses for small faces
Sunglasses for small faces – We share our favourites. If you have a slight look, read on and discover the models made for you
The best sunglasses for small faces
Are you a little lost? Don't know which glasses to choose? Don't worry. In this blog, I will give you super easy tips so that you can measure your face and see which is the fitting goggle for your face. In this article, I will focus on my readers with small beginnings.
You are not the only one who cannot find glasses of her size; there are many girls with minimal faces.
we have options for small faces and XXS
How do I know what size face I have?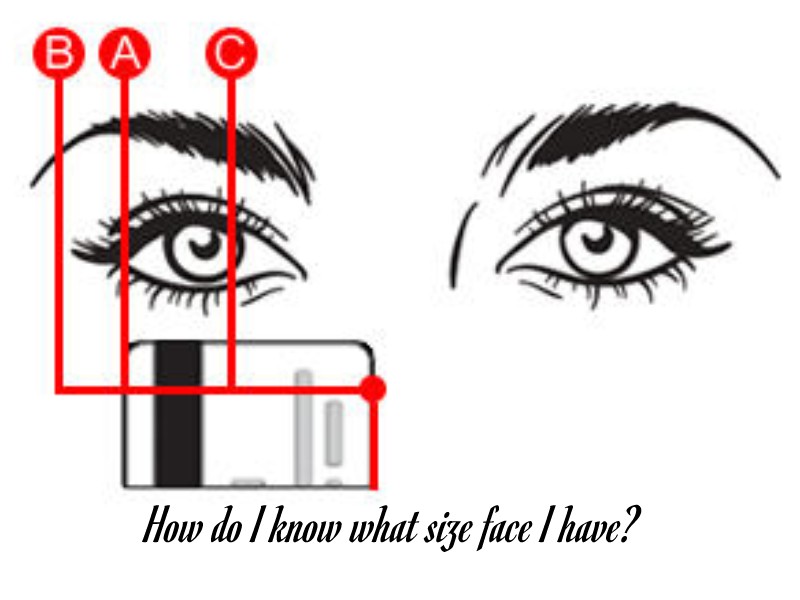 The first thing is to define your face size (by sunglasses standards), and then I will recommend a goggle for your face type. Perhaps you have ever heard of the calibre of glasses. Calibre is defined as the measurement in millimetres of the maximum width of the lens, and it can say that it is like the size of the glasses.
The calibre of the glasses
Each goggle has your size, but. What does this number tell me? Although ultimately each one chooses the glasses they like (for example, I am a lover of XXL glasses with an S face), fashion standards and opticians recommend the following:
If you have an S face, calibre less than 50.
When you have an M face, size between 51 and 55.
If you have an L face, the calibre is more significant than 55.
In simple steps, I will tell you how to measure your face to know if the small glasses style is for you. You only need a credit card and stand in front of a mirror.
close your left eye
Hold the card vertically in front of your face and align the right edge with the centre of your nose.
Align the top with the middle of your left eye.
Check where in your eye the card ends.
If it ends at point C, you have a small face.
If it ends at this point B, you have a medium face
And When it ends at this point A, you have a big face
In this blog, I am showing to focus on small faces. But hey! Stay tuned; I will continue with the recommendations soon ;).
Glasses for small faces. S-glasses
Those of us blessed with narrow faces can afford to wear round sunglasses without any complexes. Thin and rounded sunglasses will add volume to the front, helping us achieve a seductive visual effect and softening the features.
These are some Brands
Ivo
Ivo's design is minimal, well-rounded and discreet. When we thought of the IVO, we decided to place the frame behind the glass so that it could perceive a smooth and heterogeneous surface; mirrored in some models, reminding us of the sea's infinity. We achieved sober and exquisite drinks. We recommend these sunglasses for chic events because they combine very well with elegant looks, both for women and men. Ivo will be your ally in that particular event in the sun.
Melody
This style is similar to Ivo, but we chose not to do without the pasta edges. In the Mélody sunglasses, the fine paste edges combine with the gold metal bridge. Her rounded frame and thin gold temples are the perfect combinations to achieve the romantic air of our Melody glasses. You will find them warm colours and always with crystals protected by our UV400 filter. Sit down to watch the sunsets, dreaming and sighing quietly with your gaze protected.
Manhattan
Manhattan sunglasses are our quintessential urban model, and their metal frame pairs great with jeans and leather jackets. This season your favourites (and mine) have been the Manhattan Grape, and I share it ideally, lilac is a colour that has already been a trend, and that will be a must on the catwalks this summer 2021. Once again, at Charly therapy, we combine the best of current fashion with the classic vintages to bring you the retro-chic glasses you like the most.
Charles in Town
I close my recommendations for sunglasses for small faces with the flagship glasses of our brand: Charles in town. The round plastic sunglasses are already an undisputed classic; thanks to their beautiful simple frame and the variety of colours available, Charlotte's Town has become an essential vintage sunglasses for your wardrobe. The design is too young, and you need to add a touch of colour to your face. Be sure to visit them on our website: Now, we have more than 25 colours available, and you will find the ideal composition for you.
Little face, these glasses are for you. XXS glasses
Have you done my measurement test, and your eyes are limited to a long note? Are you aware that no drinks are fit for you to put on your face too small with glasses? Will you be beaten by the sun all your life? At the end of those days, at Charly Therapy, we have glasses perfect for those XXs faces. I offer two options: round sunglasses and square glasses.
blackbird
"All your life, and you're waiting for this moment to rise: "Here are the perfect glasses for your grandfather's face: Charly Therapy's Blackbird glasses. The round sunglasses are vintage style, a great classic for both men and women. I love its round metal, original colour and its lenses with complete protection UV400.
Jerry
The style of Ralph Lauren is set in the '70s, and she continues to add followers. Little and square Jerry's mini glasses are ideal for your face and will give your look a trendy and polite touch. Feel like a true New Yorker with our lightweight glasses, perfect for a walk in the park or walking to work with your Americano in hand. I recommend this playlist for the ride 🙂
Also Read: Improve Facial Health – Skincare Tips for Clear, Healthier Skin Fast